How to hire the best repair service agency to repair a washing machine
When we think of home appliances, finding repair services for home appliances is one of the most difficult tasks for everybody. But don't worry now we have made it easy for you. Because you are here and we have already done the research for you. We hope that it will save you lots of time as well as it will prove very beneficial to you. At the end of this article, you will get the best idea of how to hire any agency or services to repair the washing machine. 
The washing machine is a very essential home appliance in our day-to-day life. Almost everyone has a washing machine at home in all major cities. Can you imagine if your washing machine does not work for a few days? How annoying will it be? It saves our precious time. That's why it is very necessary that we should be in touch with someone who is an expert in repairing home appliances like washing machines. Also, we should know which agency is best for repairing in our area. Also, this is one of the reasons you should know how to hire the best repair services agency to repair a washing machine.
How to hire the best washing machine repair service agency
Here are a few things you should keep in mind while hiring someone or any agency to repair your washing machine.
Experienced technicians:

The agency should have experienced technicians to repair your home appliances. If you hire someone who is not experienced enough to repair the washing machines then it can be a big mistake because sometimes, newbies can make a mistake and it can cost you more than you think. It may prove to you as a waste of time & waste of money.

Doorstep service:

If you want to save your time visiting any store then you must consider this feature as well. If the washing machine repair agency is unable to provide you with any service then you are going to waste lots of your time visiting the store and it's also very frustrating for those who really care about their time.

On-call appointment or service:

This is one of the important features when we think of hiring a repair services agency for washing machines. Because you don't know when you need an emergency service and this can also save you lots of time that we waste visiting stores or repair centres.

Local presence or service:

The repairing agency should have a local presence or at least be able to provide the services in your local area then we can consider it as worth hiring. Otherwise, you should consider another option for washing machine repair services.

Professional:

professionalism is one of the most important things in the service industry. That's why you need to consider it as well when hiring any repair agency for washing machine repair services.

Part replacement service:

If there is the need to replace any of the parts of your washing machine then you should consider this option as well. Because if the agency is unable to offer this feature then it will be better to find another agency. There might be a need to replace the parts of your washing machine. If that is the case then you should go for the best agency which is able to provide this kind of feature.

Payment Options:

You need to check what kind of payment options are available. Nowadays, people need very flexible payment options like online payments. For example UPI payments. You also consider this to avoid any conflict between you and the service provider. So go for your convenient payment options.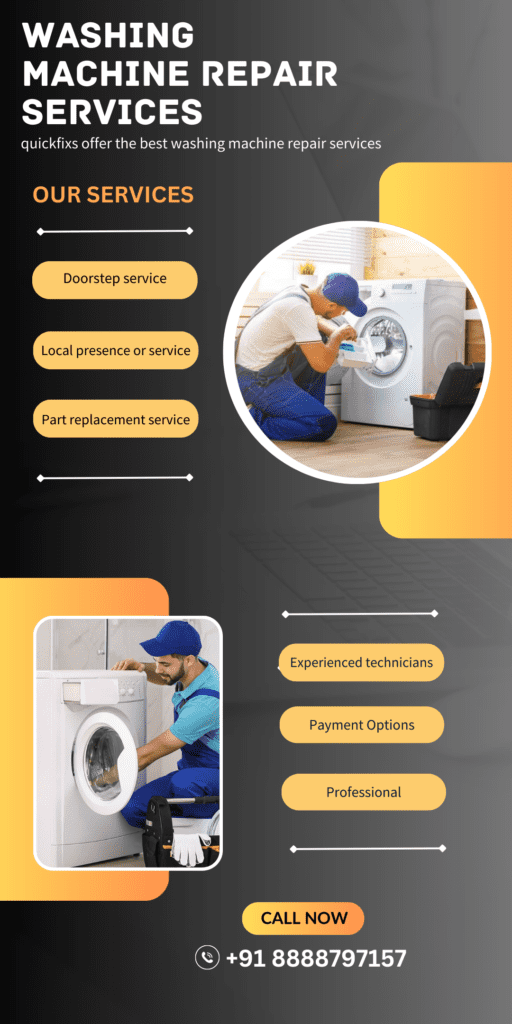 There are many agencies in pune that say that they offer the best washing machine repair services in pune. But in reality, there are very few agencies in pune that really offer the best washing machine services in pune. I think quickfixs follow all the parameters mentioned above. That's why we think quickfixs.com is one of the best home appliance repairing services agencies in pune. Who also offers doorstep services all over the pune. Have a convenient payment option and experienced & professional technicians.
Quickfixs.com is one of the best home appliance repair services agencies in pune. If you need any services to repair any home appliances like washing machines you can hire technicians from quickfixs.com. If you want to check washing machine repair services in pune offered by quickfixs
Also, you can call us on  8888797157